Remove unwanted hair in practically any part of your body. Our IPL technology uses light to destroy hair with minimal discomfort and no downtime. In 4 to 7 treatments, you will see a 70% to 90% permanent reduction of hair in the treated area.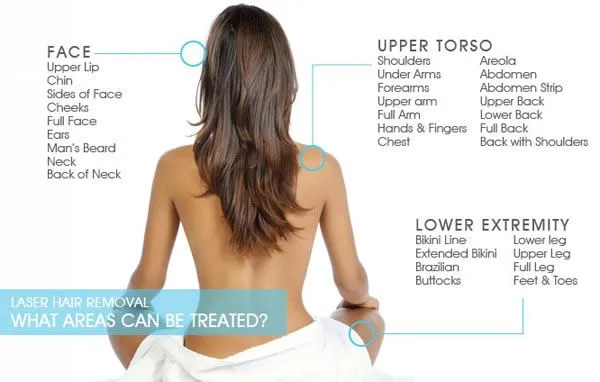 FAQ - Frequently Asked Questions
What is IPL?
IPL stands for "Intense Pulsed Light". It is a type of laser technology that can be focused to accoplish a variety of tasks. Dawson Dermatology has special applicators for our IPL for removal of hair on light or dark skin, removal of dark spots and removal of redness in the skin.
How many treatments will I need to completely remove all my hair?
Hair removal via IPL or laser is more appropriately called reduction rather than removal. Each treatment will destroy 15-20% of your active hair follicles. Since not all of your hair follicals are active at the same time, it is very difficult to get absolutely all the hair in a specific area, but most people will achieve 70 to 90% permanent reduction of hair in the treated area after 4 to 7 treatments.
How long does treatment take?
The length of treatment depends on the area being treated. The underarms can be treated in less than 10 minutes, while treating the legs can take up to an hour.
How often can I treat the same area?
We recommend you wait for your hair to start to regrow before you repeat your treatment. This usually takes about 6 weeks in the beginning, but can be 2 or 3 months toward the end of treatment.
Can I wax or shave before treatment?
You will need to shave a day or two before your treatment date so there is minimal hair above the skin. However, since IPL only works on active hair follicles, you will get very minimal results if you wax before treatment. If you normally wax, allow your hair to regrow before scheduling your hair removal and shave as needed.
Is treatment painful?
IPL feels like a slight snapping of a rubber band on your skin. There is some heat, but this will be controlled with an ice pack during treatment. Most people tolerate treatment with no numbing or pain medication. If you are sensitive, we can apply a topical anesthetic to small areas of skin or you can take an over-the-counter pain reliever like aspirin, Tylenol or ibuprofen.
What should I expect after treatment?
Most people will have mild redness in the treated area that will fade by the next day. You will see the hair pushed out of the skin about 1/8 of an inch until it falls out. After the hair falls out, your skin will be smooth for about 6 weeks until you see new growth. Some will experience mild redness around each hair for about a week until the hair falls out. Generalized redness or dark patches that last more than a day are uncommon - if you experience this let us know immediately so we can help you speed healing and adjust the energy for your next treatment.
Who does the treatments?
One of the doctors in our office will choose your personalized settings based on your skin type, hair thickness and response to previous treatments. The doctor may do one or two test pulses before allowing one of our Certified Medical Assistants (CMA) to complete the treatment. All of our CMA's have been extensively trained before being allowed to treat patients, and your doctor will always be in our office during treatment.
How much will this cost?
Cost depends on the area being treated. A package of 5 treatments for the upper lip is around $300. If you are treating legs and thighs, a package of 5 is around $2000. We often have specials that our patients can take advantage of to make your cost even lower. You can get a free hair removal consult and we can give you a specific price for the treatments you desire.
Which areas can I treat?
Practically any area can be treated with our IPL. See the image above for a partial listing.
Have another question? Call us or email us and we will answer your question right away!